Dragon tactics in the press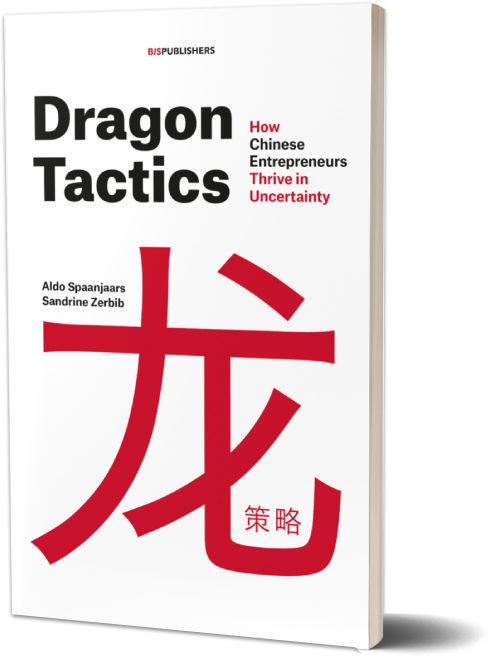 Dragon Tactics presents a potent mix of China's four-thousand-year-old history and management methods that borrow as much from Confucianism as from new technologies.
It explores a unique approach to business by analysing everything from the unexpected philosophies of Chinese business leaders on competition, risk, profit and failure to the role of family and how it is changing. It defines the cultural spirit of a wolf pack: its skill of observation, its respect of the leader's authority, its embrace of flexibility, and more.
Read more
Ultimately, the book describes the Dragon Tactics mentality in entrepreneurial China, and in those who embody it, to explain how and why Chinese businesses thrive in chaos. In less than thirty years, world-renowned Chinese companies like Haier, Huawei, Alibaba (and many other companies virtually unknown outside of China) have converted the country into a fast-paced consumer society and a powerhouse of innovation and survival. How did these Chinese brands become so successful so quickly in one of the world's most unpredictable, hyper-competitive markets? How do they navigate the local uncertainty that frustrates and intimidates most Western managers?
There are many lessons for Western leaders to learn — a new set of quite unexpected but proven business management skills, how they came to be, and why they work — to not only to succeed within China, but more importantly, to better navigate an increasingly uncertain and volatile world far beyond China's borders.
Informed by decades of experience in the Chinese marketplace, Aldo Spaanjaars and Sandrine Zerbib don't simply unveil the secrets of how Chinese companies operate and stay competitive. Rather, more usefully, the authors provide a clear understanding of the cultural forces driving the business practices that otherwise confound outsiders.

Read less